Using Musculoskeletal Ultrasound to Identify the True Root Cause of Your Ligament, Muscle, or Joint Pain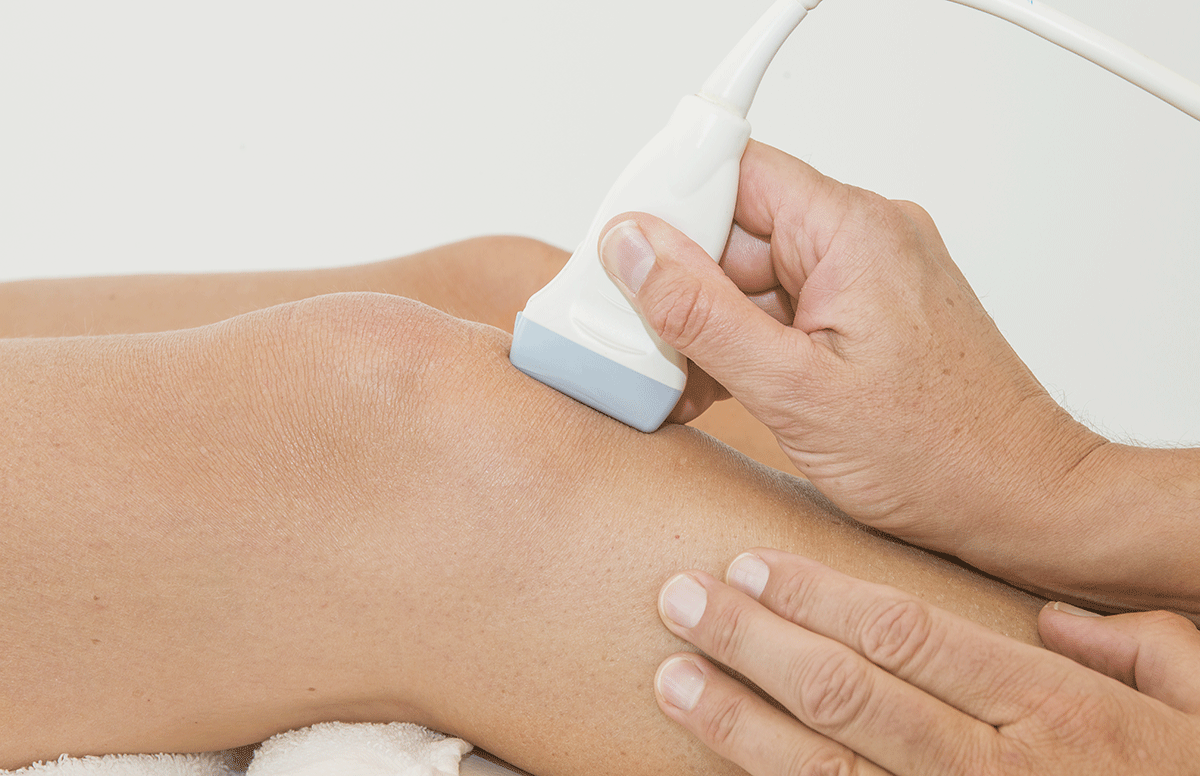 Musculoskeletal ultrasounds use sound waves to create images of the body and help physicians diagnose damage to soft tissue and joints. The method provides real-time imaging, allowing it to show the movement of the body's internal organs and serve as a guide during procedures. Studies have shown that it is an effective diagnostic tool for overuse injuries, such as tendonitis. It is also a useful way to provide visual feedback during treatment and determine the effectiveness of interventions. According to the Journal of Medical Ultrasound, the availability of more compact machines allows for the diagnosis of sports injuries on the field. The ability to assess and diagnose the injury so quickly allows for immediate treatment.
Musculoskeletal ultrasound examinations are conducted by radiologists and generally take between fifteen and thirty minutes. While there is usually no special preparation necessary, patients should wear loose-fitting or comfortable clothing. The patient can be seated on a table or in a chair. Ultrasound gel is placed directly on the skin, and a small transducer (probe) transmits high-frequency sound waves through the gel into the body. When the sound bounces back, or echoes, off denser surfaces, it creates an image, or sonogram, that appears on a computer screen. Patients may be asked to move the affected area so it can be better evaluated. Although the procedure itself is not painful, patients may feel some discomfort or minor pain while the transducer is being moved over the affected area. After the examination, the radiologist will share the report with the physician, who will discuss the results with the patient.
Ultrasounds are less expensive than other imaging methods, and are widely available. They are safe for patent with metallic implants or pacemakers, who cannot be exposed to the strong magnetic fields of magnetic resonance imaging (MRI). They also provide greater detail when assessing soft tissue structure, as opposed to X-rays, which are more useful for identifying bones and fractures. However, ultrasounds are highly dependent on the operator, and there are potential artifacts or movements that could affect the image quality. Sometimes particular ligaments, such as the anterior cruciate ligament (ACL), are difficult to fully examine due to the physical limitation, as sound waves do not travel well through air or bone. In such cases, MRI may offer a deeper evaluation.
The resolution of ultrasound images has improved recently, making them an even more popular diagnostic tool. At Masri Sports Medicine, Musculoskeletal ultrasound enables us to assess the location and extent of injuries while also guiding them through treatments. Avoiding a proper diagnosis can increase damage to muscles, joints, and tendons, which may lead to a problem requiring more extensive treatment. Because of this, it is best to get an accurate report and treatment in order to begin recovery. Musculoskeletal ultrasounds provide a safe and effective way to do this.
References:
Chaing Y, Wang T, Hsieh S. Application of Ultrasound in Sports Injury. Journal of Medical Ultrasound. 2013; 21(01):1-8. doi.org/10.1016/j.jmu.2013.01.008
Faltus J, Boggess B, Bruzga R. The Use of Diagnostic Musculoskeletal Ultrasound to Document Soft Tissue Treatment Mobilization of a Quadriceps Femoris Muscle Tear: A Case Report. International Journal of Sports Physical Therapy. 2012;7(3):342-349.
Khoury V, Guillin R, Dhanju J, Cardinal E. Ultrasound of Ankle and Foot: Overuse and Sports Injuries. Semin Musculoskelet Radiol 2007; 11 (2):149-161. Doi: 10.1055/s-2007-1001880
Nordqvist, C. (2017, June 23). "How do ultrasound scans work?." Medical News Today. Retrieved from
https://www.medicalnewstoday.com/articles/245491.php.
Peh WC. Variants and Pitfalls in Musculoskeletal Imaging. Semin Musculoskelet Radiol 2014; 18(01): 001-002. doi: 10.1055/s-0034-1365829
Radiological Society of North America (RSNA) and American College of Radiology (ACR). Ultrasound-Musculoskeletal. Musculoskeletal Ultrasound. http://www.radiology.info/en/info.cfm?pg=musculous. Published April 1, 2017. Accessed January 21, 2018.